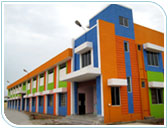 With our state-of-the-art converting facility of TITAN, DEARCO, and TOSHIN slitters, and sheeters decades of expertise DI can be a one stop source of printing and packing solutions.

Our modern facility at Chennai is a testament to our commitment for providing slitting and rewinding cutting edge technology, which has earned our reputation as a market leader in our area of operation .

Our highly trained staff, work through all stages of the converting process. Dhana Impex will assist your company in assessing your unique demands so that we can work collaboratively to develop a solution to match your needs.